---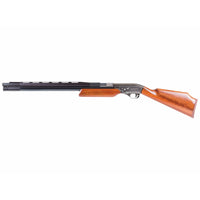 This product only ships within Canada
FIREARMS LICENCE REQUIRED
The Air Venturi Wing Shot .50 caliber precharged pneumatic (PCP) bolt-action shotgun offers airgun hunters the versatility of choosing either .50 caliber shotshells or bullets. Beautifully balanced and adorned with attractive engraving and a handsome hardwood stock, the bolt action Wing Shot is effective for wing shooting dove or quail-sized birds, small game, and large game hunting including coyotes.

SHOTGUN: Choose the shotgun option and enjoy velocities of 1130 feet per second with 360 foot pounds of energy using No. 8 shot. With consistent spreads of 12" at 20 yards, it's the ideal tool for upland or bushytail hunting.

RIFLE: UNSCREW THE CHOKE BEFORE USING LEAD BULLETS. Hunting for larger game? With .50 caliber bullets the Wing Shot rifle offers speeds of 760 fps and fpe exceeding 245.

AIR BOLTS:  Arm your Wing Shot II with the new .50 cal Air Bolts and turn your air shotgun into a hard hitting arrow launcher!  Now more speargun than air rifle, be careful not to "Robin Hood" or split bolts already on the target --they are that accurate!  Capable of speeds up to 500 fps and 238 FPE, Air Bolts are a fusion of innovative design and incredible knockdown power.

Weighing in at less than 7.5 pounds, the smoothbore Wing Shot features an ambidextrous stock, rubber buttpad, crisp two-stage trigger, beaded front sight, integrated air pressure gauge, 5 consistent shots per fill, and a one-year warranty. For a change in shooting, easily unscrew the choke.

Bore Diameter: 12.47mm Barrel Thread: 16.6x18 Choke Measurement: 12.4mm The choke reduces the inner barrel diameter from .494" to .486"
.50 calibre Smoothbore fires both lead bullets and specially designed shotshells
Bolt-action
Single-shot
Ambidextrous Stock
Bead Front Sight
2 Power Settings
244cc Air Cylinder provides 5+ Consistent Shots Per Fill