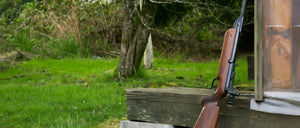 ---
D&L Airgun offers airgun enthusiasts the premier link to the finest made air rifles and air pistols. We also offer product support & repair, including replacement parts, for Weihrauch, Diana, BSA, Webley, Cometa, and Gamo brand airguns, as well as the Umarex line of airguns that includes Colt, Walther, Smith & Wesson, and Beretta brands. Complimenting our selection of airguns is a wide variety of shooting accessories including targets, scopes, mounts, cleaning kits and pellets from manufacturers like JSB, H&N, RWS, and Crosman Premier.
D&L Airgun has grown out of a foundation of knowledge and passion for airguns and the sport of marksmanship. Out of this passion has come the desire to help equip new athletes and hobby enthusiasts with quality sporting goods best suited for their level. As well, we promote education for both athletes & enthusiasts with product know-how and safe handling guidelines that will provide them with the most enjoyment from their airguns.
From the collecting of antique airguns, to the advocating of marksmanship as a sport that the entire family really can enjoy safely, we at D&L Airgun understand the pleasure that the right equipment and service can provide. We take pride in offering our customers the best possible service in the airgun market.