---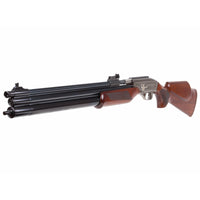 This product only ships within Canada
FIREARMS LICENCE REQUIRED
Seneca Big Bore 44 909 Light Hunter air rifle
Precharged pneumatic (PCP)
Single-shot
Rifled barrel (0.4516" to 0.4567" diameter)
Bolt-action
Fixed front sight
Fully adjustable, removable rear sight
Dual air chambers (500cc total air capacity)
3,000 psi max fill pressure
Built-in manometer (pressure gauge)
11mm scope rail (use only compact scopes)
2 power levels (first bolt stop is low power, second is high)
Hardwood Monte Carlo stock with checkered forearm & grip
Raised right-hand cheekpiece
Includes Male Quick-Disconnect Foster Fill Connection on rifle

How many shots will you get from your 500cc Big Bore 44 909 Light Hunter? Our tech department filled their dual-tank air rifle to 3,000 psi, loaded it with 166-grain bullets and let loose! They shot the first 6 shots on high power. The first shot was 745 fps. Shot 6 was 713 fps.

The next 12 bullets were shot on low power. Shot 7 was 683 fps, and the final shot on low power was 574 fps. That brought the tank down to 800 psi for a total of 18 shots.

This shows you what one gun can do. Velocity and psi levels will vary gun to gun.