---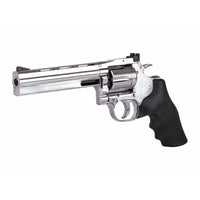 This product only ships within Canada
This is one of the most realistic BB revolvers made. The cylinder swings out, and you insert 6 shells with the included speedloader. When you've emptied the cylinder, push out the empty shells with the ejector rod.

The Dan Wesson CO2 BB revolver has an 8" barrel and textured grips. It's a great piece if you enjoy shooting firearms but don't want to go to the range for every session.
Dan Wesson BB revolver
12-gram CO2 cartridge
6-rd BB cylinder
Fixed front sight
Adjustable rear sight
Textured grips
Double-/single-action
Manual safety*
Working ejector rod
Includes detachable Weaver rail, speedloader and 6 shells**

*If the gun is cocked, the manual safety will not engage. For the safety to engage, the gun must be uncocked. If you cock the gun and then try to engage the safety, you will still be able to pull the trigger...and the gun will shoot the projectile!