---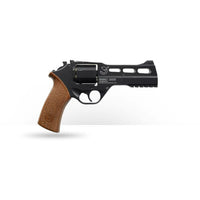 This product only ships within Canada
The Chiappa Charging Rhino 60DS CO2 BB Revolver in black and white highlights the same look and feel as the original .357 Magnum firearm. With velocities up to 328 FPS and features and familiar operation that closely match the original, it's a great choice for owners of the real steel version or those looking for plinking fun.
The CO2 cartridge can be replaced easily since the grip comes apart and has a tool attached to the inside for turning the piercing screw. The pistol has an adjustable rear sight and fixed fiber optic front sight to help accuracy, in addition to an under-muzzle Picatinny accessory rail for things such as lasers and lights.
The Rhino can be used with double action or single action, and the BB cylinder offers a 6-round capacity. The CO2 revolver adds authenticity by having cartridges for loading BBs so that it better mirrors the functions of the original firearm version.
| | |
| --- | --- |
| .177 Caliber BB @ 382 FPS | Action: Single / Double |
| Length: 8.5" | Weight: 2.5 lbs |
| Trigger System: Single  | Capacity: 6 |
| Front Sight: Fixed | Rear Sight: Adjustable |
| Grips: Plastic | Safety: Cross-bolt |