---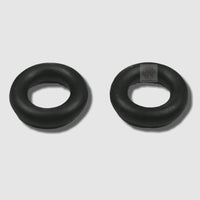 AIR RIFLES IMPORTED FROM CHINA HAVE VARYING SIZED BREECH OPENINGS AND CAN BE HARD TO FIND BREECH SEALS FOR
THIS O RING CAN BE MODIFIED USING A DRILL A PLASTIC BALL POINT PEN SOME 100 GRIT SAND PAPER AND A PIECE OF 6MM DOWEL.
ONCE MODIFIED IT WILL FIT MOST CHINESE OR NO NAME AIR RIFLES. IT WILL NOT FIT UNLESS MODIFIED
HARD 90 DURO NBR IS EASY TO SAND WITH 100 GRIT SAND PAPER.
I HAVE USED THIS METHOD TO MAKE BREECH SEALS FOR YEARS
2X ORINGS ARE INCLUDED THE OTHER ITEMS YOU WILL HAVE TO PROVIDE
O RING SIZE OD=14.5MM ID=7.5MM CROSS SECTION=3.5MM