---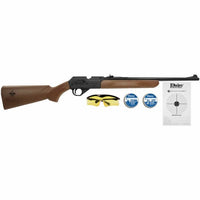 This product only ships within Canada
Thanks to a collaboration between the Boy Scouts of America and Daisy Airguns, young shooters everywhere can find their way into the exciting world of shooting sports.

With a design ideal for plinking and fun, this single-pump Model 1910 is an ideal air rifle for learning proper shooting techniques.  With an uncomplicated design, your child will quickly grasp shooting fundamentals.

Weighing in at only 3lbs, the Daisy 1910 is easy to handle and features a checkered stock for a secure hold.  Across the faux wood stock is the BSA's iconic fluer-de-lis emblem, a symbol that used to mark true North on older maps. The three petals of the icon represent Service to Others, Duty to God, and Obedience to Scout Law.

With a single pump, your shooter can send their choice of BB or pellet downrange at 350 fps--fast enough for peppering the paper targets included in the package. As an added bonus, Daisy included 250 pellets, 750 BBs, and safety glasses so you can shoot straight out of the box. The 1910 holds 50BBs in its reservoir or can shoot pellets one at a time.
| | |
| --- | --- |
|  .177/BB 350FPS | Shoots both BBs and Pellets |
| Single Pump pneumatic | Smooth Bore barrel |
| Adjustable rear sight | 50rd BB capacity |
| Length: 34.5" | Weight: 3.1 LBS |